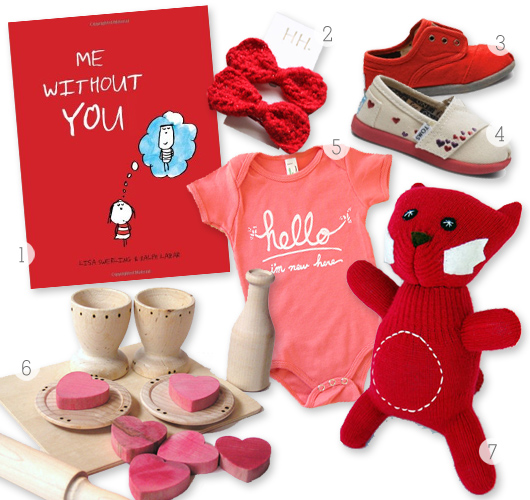 Here's a few Valentine's Day gift ideas for your little one (or ones!). The cute love book, Me Without You, would be equally great for your significant other.
1. Me Without You book, $9.95
2. Red Crocheted Hair Bows, $10
3. Red Wool Tiny TOMS Cordones, $29
4. Heart Embroidery Tiny TOMS Classics, $29
5. Hello I'm New Here baby onesie, $18
6. Hearts and Cookies pretend wooden play food, $26
7. Red Glove Fox  Stuffed Animal Toy, $18
2 Comments »
Those little Tom's are adorable! And I definitely need to pick up a copy of "Me Without You." Great finds!

agreed with kimberly. those tiny toms are so cute!
RSS feed for comments on this post · TrackBack URI
Leave a Comment