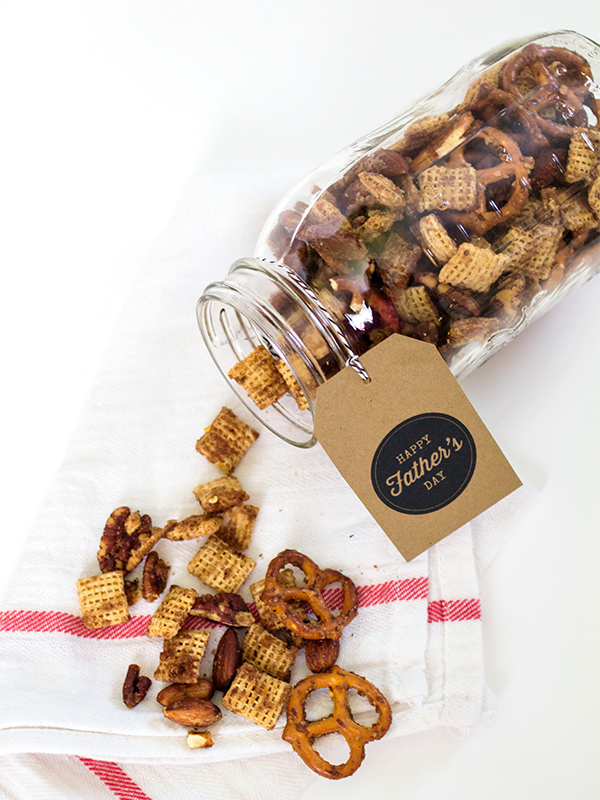 If you're still wondering what to give your dad for Father's Day, this simple snack mix is the perfect DIY gift. My dad a bit of a foodie and loves snacking so I wanted to make a sweet and spicy snack mix for him. I'm pretty sure this is my favorite snack mix recipe ever. I can't stop eating it! I suggest you make this and give one jar to your day and keep the rest for yourself! You can adjust the ingredients according to his taste (or yours) and include his favorite type of nuts and even add some cayenne pepper for a bit of a kick.
Download the printable gift tags and jar labels and print them out card stock. I used kraft paper stock to give the labels a more vintage look.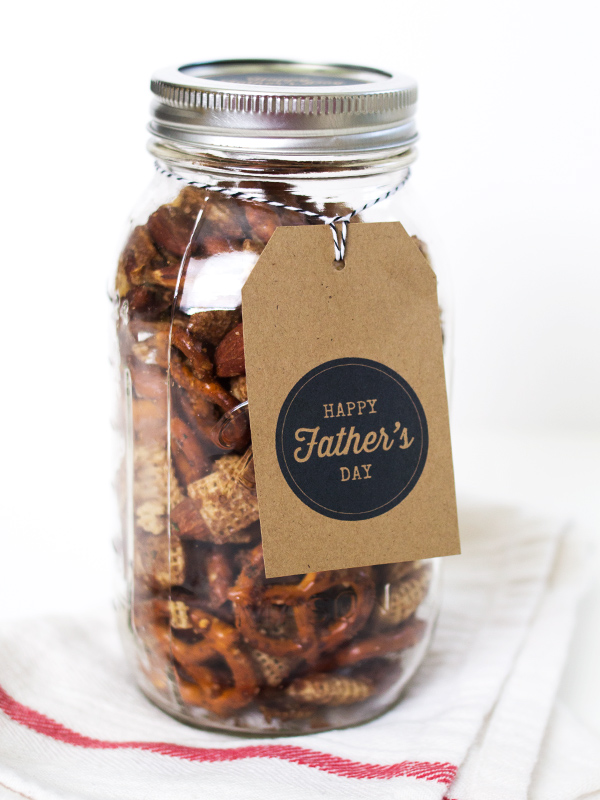 Sweet and Spicy Snack Mix Recipe
adapted from Cooking Light

3 tablespoons brown sugar
2 teaspoons chopped fresh thyme
1/4 teaspoon kosher salt
1/2 teaspoon ground cinnamon
1/2 teaspoon red pepper flakes
1/2 cup pecans
1/2 cup unsalted almonds
1 1/2 tablespoons unsalted butter
2 cups tiny pretzels
2 cup crispy rice cereal squares
2 tablespoons maple syrup
1/4 tsp cayenne (optional)
1. Preheat the oven to 350°.
2. In a small bowl, combine half of the thyme, the slat, cinnamon, red pepper. Meanwhile, spread the almonds and pecans on a baking sheet and toast for about 10 minutes. Make sure to use a timer and watch them because nuts burn easily! Once toasted, combine the nuts and  butter in a large bowl. Mix them until the butter melts completely. Then stir in the pretzels, rice squares, and syrup.
3. Add the sugar mixture to the nut mixture. Spread the nut mixture back on the baking sheet and bake for 10 minutes, stirring the mix one time half way through baking. Take it out of the oven then add the remaining thyme. Cool completely and divide amongst mason jars or tin cans,
4. Download the printable Father's Day labels, print them on card stock, and use double sided tape to adhere them to the jars. Use a hole punch to punch a hole on the top of the tags and use leather or twine to attach the tags to the neck of the jar. Now they are ready to gift!